I've been adding some new art around our house over the last few weeks—some from artists I know better than others. . .   I'm still working on putting together a collection on our TV wall and needed a big piece for the right side to help balance everything out.  Unfortunately, big art can be hard to find and pricey when you do find it.  So, I ended up ordering a 16×20 poster print of a painting from Zazzle for just $13.  It was my first time ordering from the site, but I thought the prices were really reasonable.
If you look closely, the poster version in that size isn't the very best quality but it's suppose to be a watercolor, so it doesn't have to be perfect, right?  And, for $13, I don't feel obligated to keep it for the rest of my life, or until I find something I like better. 
(By the way, did you know IKEA now makes their Ribba frames in a glossy gray?  Me neither–until I got two of them home and realized they weren't black.  But, I kind of like them.)
I also replaced the black and white  framed photograph on our living room bookshelves with something a little more colorful.  I know the artist well.  In fact, I gave birth to her.  That's the great thing about having kids.  It's like living with little abstract artists at your beckon call :)
(You might remember I commissioned similar paintings for the kids' bathroom in our last house.)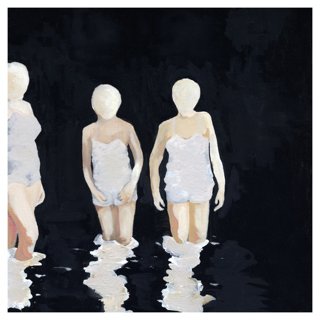 And, I made a little impulse purchase from One Kings Lane this week (heavily motivated by some referral credit I had in my account).  It's called "Night Swim" by Lisa Golightly, and I *think* I know exactly where it's going when it arrives in three weeks. There's something about her paintings of ladies in bathing suits that I really like (which is weird because this lady doesn't particularly like wearing a bathing suit and has no desire to go for a night swim, ever).
Have you added any new art to your home lately?  Any favorite sources?