After purchasing and living with the colorful kilim rug I purchased as the jumping off point for my son's room last year, I've done it again.  Yes, I found a different jumping off point in the form of this plaid rug I found on Joss & Main last week:
I never even knew I liked plaid rugs until I saw this one.  It just seems like the right amount of masculine and preppy mixed together. 
The deal with sites like Joss & Main is that you have to act pretty quickly since the sales only last a few days and quantities are usually limited.  This has been a good and a bad thing for me.  It has resulted in a few impulse purchases that are now sitting unused in a closet. . .  Fortunately, I had some referral credit in my Joss & Main account which helped me to jump with less hesitation when I spotted this rug.
And, beyond that, I haven't gotten very far with his bedroom (as he likes to regularly remind me).  We did buy this bunk bed from Overstock last summer (because he really wanted bunks).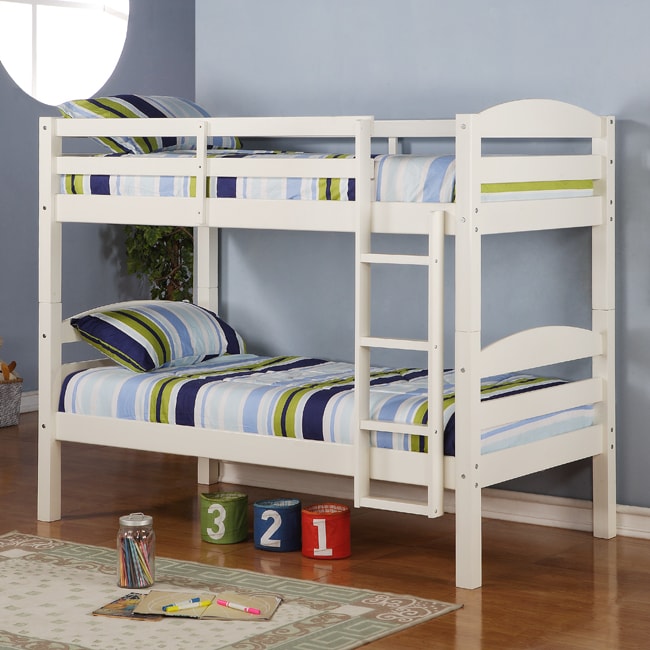 image: Overstock
I haven't touched the walls but am thinking about painting the room a fresh white:
And, he currently has the green campaign dresser (from our last home office) that I really, really do not want to repaint.  (Storage is a must-have.  He has a slight hoarding problem, as evidenced by the top of the dresser.)
He has also requested a desk and bookshelves in his (small) room.  I'm hoping that I'll be hit with some great inspiration once this plaid rug arrives later in the week. 
Now, back to my impulse purchases.  The problem with not having a plan before you begin is that you sometimes end up with random things that sit in your closet and you never end up using.  This is exactly why I've listed several items under the Shop tab that I'm ready to send to a new home.  Take a look, and maybe you'll find the perfect start to your next project.