Magazines make it look so easy.  Beautiful rooms created with an effortless mix of patterns and colors that you would never have thought about putting together—yet somehow, it all works.  In my opinion, it's all about the art of layering. 
But, in real life, that can be easier said than done. So, how do you go about creating a layered, interesting space? I've found that shopping with an open mind instead of a list is always best. That's when I end up finding what I love instead of what I think a certain spot in our house "needs."
The modern abstract painting I originally bought for our last home is a good example.  When I spotted it on Craigslist, I didn't have a place in mind for (all 5×5 feet of) it, nor did I have a color scheme in mind for the rest of the house.  But, over time, it found a landing spot above our sofa and became a colorful backdrop for the other collected pieces in our living room, including faux bamboo nightstands-turned-end tables, ceramic lamps, a traditional armoire and patterned pillows.
In the spirit of finding special pieces to create your own unique style, I've teamed up with One Kings Lane (the great discount shopping site) for their "Master the Mix" sale.  It's all about finding the freedom to decorate your home using what you love, mixing styles, playing with patterns, getting crazy with scale—you get the idea :) 
 image via One Kings Lane
To give you a taste, here are a few of great pieces that are included in the sale:
Links 18×18 Pillow in gray (Add warmth and texture all at once.)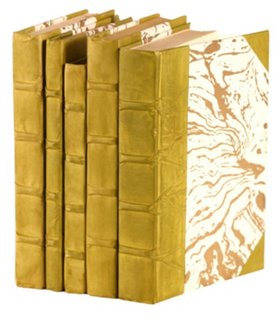 Set of 5 Parchment Covered Books—(A pretty color to add to your table or shelves.)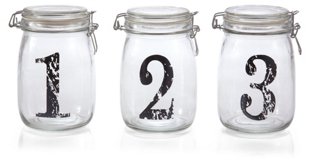 Set of 3 Bail/Trigger Jars—(Storage with a vintage feel!)
All product images via One Kings Lane
Sale Details (aka the important stuff)
Okay, if you're ready to "master the mix" in your own home, it's your lucky day.  This fun One Kings Lane (OKL) sale just started today (Monday, Aug. 6th). 
If you're not familiar with OKL, there are two things to know: 
You'll need to sign up for a free membership to the site (easy!), and you'll want to act fast if there's something you like.  The sales start at 11am (ET), lasting for only 72 hours–and you don't want some other shopper getting their (virtual) paws on "your" stuff first.  (Isn't shopping more fun when it's kind of competitive?!)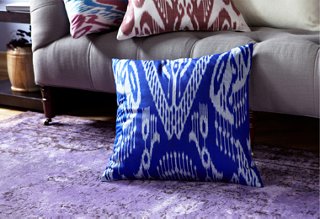 image via One Kings Lane 
And, a little warning.  It's easy to become addicted to this site—in a good way.  One Kings Lane has daily sales and offers discounts on name brand home decor and lifestyle brands on furniture, lighting, rugs, accessories, bed and bath, pets, kids, travel. . . whatever you're looking for.  If you want to get the inside scoop, you can sign up to receive notifications of future sales.
Just click here to start.  Happy shopping, and let me know what you find :)
Disclosure:  This post is part of a paid partnership with One Kings Lane.